SKILLED ASSISTANCE AT YOUR PLACE
On-Site Packaging and Crating Services in Baltimore
At Craters & Freighters, we specialize in handling oversized, heavy, sensitive, and fragile assets. We have several on-site packaging and crating services to aid businesses and organizations that can't get their items safely to our facility. We can responsibly design and engineer the optimal cushioning, stabilizer supports, and containers for just about anything, just about anywhere.
When you work with us, you don't have to put your assets at risk trying to manage or transport them independently. Our on-site crating teams have the equipment, high-quality materials, and spec-driven technology to custom build the precise crate and packaging at your business or residence. 
Think your item is too big for us? Let us take a look. We've successfully protected and shipped heavy machinery, oversized industrial equipment, sensitive electronics, and everything in between all over the world. 
Our teams know that your time, energy, and items are valuable, our comprehensive shipping solutions deliver. We're leaders in the industry and ready to give you our expertise. Call today to learn more about our on-site crating and packaging solutions.
Custom Crates at Your Doorstep
Do you need custom crates built and dropped off at your doorstep? Well, our Baltimore shipping company does that, too. Let us know some basic information and how many containers you need, and we'll take care of the rest. 
Our crating experts are dedicated to every job we take on, and we'll get your special order taken care of ASAP with a level of professionalism and integrity that goes unrivaled.
Reach out to us today to learn more about how Craters & Freighters can help minimize the stress associated with your packaging, shipping, or storage needs. 
On-Site Packaging and Crating Services in Baltimore
When you choose us for your on-site packaging and crating services, you're choosing to work with a global network of specialists with decades-long experience. We know exactly what it takes to create custom packaging and crating solutions for just about any asset, no matter the size or where it's headed.  Our craftsmanship and meticulous attention to detail go beyond industry norms, and we use only the best materials to ensure a safe, secure shipment. We take on the most challenging jobs because our teams are beyond qualified to fully support them.
Some of our on-site custom packaging and crating solutions include:
Your assets deserve thoughtful consideration, and our on-site crating team provides just that. We're trusted by several industries that all rely on us for perfectly tailored shipping solutions and on-time delivery. You can too.
On-Site Commercial Crating
If your commercial assets need reliable protection to navigate through the shipping process, let our Baltimore crating professionals help. We have a proven track record of successfully handling an extensive array of commercial and industrial items; size and weight are of no concern. 
We engineer on-site packaging and crating plans using a specific skill set, years of experience, the latest technology and equipment, and a knowledgeable team. You can trust us to meet all of your on-site commercial crating goals. 
We offer on-site commercial crating and packaging services for:
Allow us to take care of your commercial assets from start to finish. We'll come to your facility and design the best packaging solutions for your items, minimizing your stress and allowing you to focus on other tasks.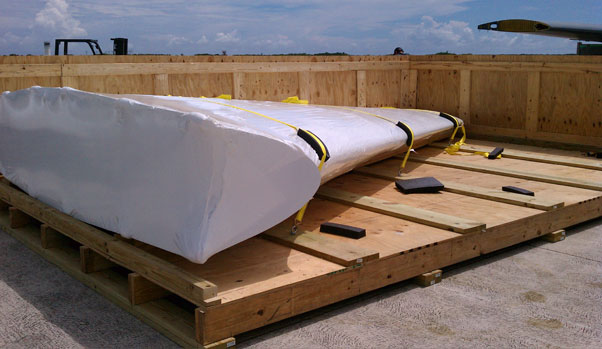 Your Premium On-Site Custom Crating Company in Baltimore
Looking for the best on-site crating company in Baltimore? We have the solutions, experience, customer support, and logistics experts to ensure you have the ultimate crating and shipping experience with us. We utilize a nationwide network that keeps your assets within our reach at all times. 
Whether your assets need to travel by air, land, or sea and need domestic shipping or international shipping, we'll make sure it's done right. Our teams never use a one-size-fits-all approach because we understand the value of each asset we crate is more than economic. 
We'd like to meet the challenges of your unique needs as we support you through the shipping process. Having worked with dozens of local industries, we're confident we can help you.  
We invite you to read our testimonials to learn more about us and what our customers have to say. Then give us a call, and let's discuss how our on-site crating team can get your crating and shipping needs taken care of. 
Get a fast, free, no-obligation cost estimate from Craters & Freighters Baltimore.
Provide some information on your shipping needs, and we'll get back to you quickly with a figure you can use to plan your on-site crating and shipping project. Proudly serving Baltimore and its surrounding areas.